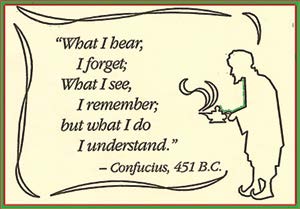 According to Wikipedia, etymologically, the word education is derived from educare (Latin) "bring up", which is related to educere "bring out", "bring forth what is within", "bring out potential" and ducere, "to lead."
When you love what you do it shows, regardless of whether you're introducing a new participant to the sensation of sliding or guiding a seasoned expert to the best snow on the mountain. Engaged instructors capture the interest of their guest and cleverly weave an experiential blend of instruction that recognizes age, ability, mental state, motivation, physical condition, learning style, equipment choice and personal goals.
Trainers have the equally complex job of tailoring the education they deliver to instructors so that it meets the demands of the evolving snowsport guest. They also make it their goal to help you be your very best by building your confidence and providing feedback to help you develop. Most of us would agree that a great clinic is a mix of relevant content, participatory activities that give us some practical experience. It's engaging and our clinician seemed to truly value our success.
To help address the complexities of our job and the diversity in our membership, this season we are launching the following events and resources:
• Ignite your curiosity and check-out the event schedule for cross over events that combine Nordic and Alpine skiing as well as an introduction to making the most of local cross country centers.
• Join fellow instructors at one of our new "Alumni Club" events and stay connected with like-minded folks from across the division.
• Take your skills up a notch at our Professional Development Camp specifically designed for level 3's and resort trainers.
• Consider updating your library with National's release of several new manuals and the revised National Standards for all disciplines.
• Visit the Learn to Ski and Snowboard Month website [skiandsnowboardmonth. org] and encourage your resort to take advantage of the free media toolbox that helps promote snowsports to the public.
• Stay tuned for the next phase of the More Fun Starts Here Campaign as divisions across the country hop onboard with Eastern's Push for Public Awareness campaign. For more information go to: http://www.psia-e.org/eastern-division-push-forpublic- awareness/
http://psia-w.org/new/wp-content/uploads/2015/09/confucius.jpg
209
300
psia
http://psia-w.org/new/wp-content/uploads/2015/08/PSIA-AASI-WEST-LOGO-340x156.png
psia
2015-09-01 10:06:49
2018-10-09 12:49:54
Education...your future is calling!