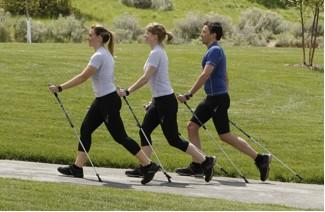 When:
July 30, 2017 @ 9:00 am – 3:00 pm
2017-07-30T09:00:00-07:00
2017-07-30T15:00:00-07:00
July 28! Event closed for on-line Registration. 
There is room if you want to attend. Please read materials and go to Tahoe Donner Alpine Base Parking Lot, 9:00 am
We can accept cash or check for day of singups
Welcome Guide: Nordic Walking for Total Fitness
By Suzanne Nottingham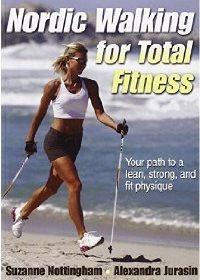 Welcome to the Nordic Walking for Total Fitness Clinic at Tahoe Donner on Sunday July 30, 2017! Check-in begins at 9:00am at the Tahoe Donner Alpine Base Lodge and the event finishes at 3:00pm. This event is open to all levels of fitness and offers low impact options for those who are new to Nordic walking or recovering from injury.
Registration: To register for this one-day event go to: psia-w.org/calendar/. The clinic fee is $80 (which includes Nordic walking poles for the clinic). PSIA-AASI members will earn one day of education credits for attending. This event combines the outdoors with LEKI Nordic Walking Poles for the ideal fitness activity (targeting all ages and abilities). This clinic is for snowsports instructors interested in cross over teaching expertise to learn about the compelling fitness benefits of Nordic walking fitness, and how to teach it.
Clinic Highlights:  During the clinic participants will learn about the difference between Nordic walking and Trekking poles, each providing a different physiological experience for the user. Feel, first hand, how Nordic walking enhances many elements of being fit, including cardiovascular training for hard core athletes and heart health for everyone else, weight loss, muscle balance for pain management, functional spine health, balance and stability, and more.
Why Nordic walk?

Nordic walking equipment; not all poles are created equal.

Nordic walking basics: learn to teach Nordic walking while you learn.

Components of Nordic walking fitness and cross over to winter sports.

Safety considerations for teaching an outdoor Nordic walking experience.
Using Nordic walking poles for fitness or stability facilitates a full body experience, an interaction with the pull of gravity that creates bone density in the entire body, not just through the lower extremity. Poles spread out your physical effort to balance strength demands and add resistance into the entire body, like cross country skiing, by activating six pairs of joints, compared to just three pairs fitness walking the old fashioned way.
What you need to bring: A hat, sunscreen, water, and good walking shoes. Notebook and pen for taking notes. All other equipment will be provided on-site.
What you need to know:
To register, go to

psia-w.org/calendar/

.

Follow this link for the event location at

Tahoe Donner Alpine Base Lodge

.

http://www.tahoedonner.com/

Parking is plentiful in the Alpine base lot area located adjacent to the Tahoe Donner Alpine Base Lodge.

Restrooms are in the Tahoe Donner Alpine Base Lodge.

The closest grocery store is in Truckee so we recommend packing a lunch and other necessities you may need.

That you can take breaks any time you'd like!
QUESTIONS: For specific event itinerary questions contact Suzanne Nottingham at: skiwwithsuzanne@gmail.com
For questions on how to register and event location instructions contact the PSIA-AASI office at info@psia-w.org
Interested in more information? Check-out: Nordic Walking for Total Fitness (Human Kinetics 2009) by Suzanne Nottingham for your step-by-step guide to change and improve walking workouts forever for yourself and those you teach.
More about lead coach Suzanne Nottingham:
Suzanne Nottingham is well-known as a leader of outdoor sports education. A highly creative sports and fitness marketer with more than 28 years of experience, she has been helping clients find and reach their health and fitness objectives through innovative education-based programs and strategies. She is also recognized equally for teaching and programming excellence, having received IDEA's highest honor as Fitness Instructor of the Year.
Nottingham spearheaded many popular fitness trends that brought people outside, away from health club walls, for fitness. Outdoor Cross Training®, Inline Skate Fitness, Skate to Ski Training, Winter Sport Dryland Training, Nordic Walking Fitness, and more. When Suzanne's classes hung from tree limbs to do pull-ups and suicide sprint drills, many fitness buffs were inside wearing leotards and headbands performing high impact choreography—'aerobics' as we once knew it.
For more than 20 years, Nottingham proudly served as a spokesperson and continuing education provider for the American Council on Exercise (ACE), and she was on the California Governor's Council on Physical Fitness and Sports.
With a client list including NIKE, Thorlo, Rollerblade and many others, she was the director of North American Nordic walking education for Leki USA.
Nottingham is also well published include the author of Fitness In-Line Skating and Nordic Walking for Total Fitness (both Human Kinetics Publishers) is known as one of the pioneers in the launch and success of in-line skating and Nordic walking in North America.
But she claims her real job is as a PSIA Level 3 ski instructor at Mammoth Mountain Ski Resort in California, where she has lived since 1980, and credits her 35 year affiliation with the Professional Ski Instructors of America as her most valuable education resource that shaped her ability as a leader and outdoor educator. 
http://psia-w.org/psia-w/wp-content/uploads/2017/04/Nordic-Walking-2.jpg
212
325
Kristi J
http://psia-w.org/psia-w/wp-content/uploads/2015/08/PSIA-AASI-WEST-LOGO-340x156.png
Kristi J
2017-04-30 14:40:34
2017-07-28 14:16:27
Nordic Walking for Total Fitness