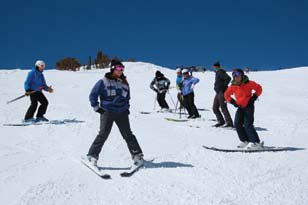 Many questions are asked across the division related to the structure of our exam processes. Some members wish to attempt to skip levels or take multiple levels of examination in one season and want to know how go about requesting these types of accommodations. Here is the recommended expectation and how the process flows with some rationale for the "why" so members can get a better idea of why we do the things we do.
The current 1 to 3 Level Examination Pathway follows a RECOMMENDED five year plan for a full time instructor. Part-time instructors should expect a protracted learning experience and therefore longer time prior to completion of the Level 3 certification.
Year One:
Level 1- An introduction to snowsports teaching with an exposure to teaching concepts and skiing/ snowboarding demonstration ability. Although the base methodology is basic in nature we believe that it is only through practical teaching experience that an instructor can fully grasp how to utilize and implement sound teaching scenarios. A petition to attempt more than one level in a year would necessitate that the applicant had a strong and documented coaching background in an activity which complimented the skill set looked for as a professional snowsports instructor. Skiing/riding ability alone is not a suitable reason for petition. Due to the complexities of and fundamental principles introduced at this level it is unlikely that a petition will be approved unless the complimentary skill set is from within the snow sports industry.
Year Two:
Develop practical experience with teaching hours and training. Candidates should use the time period between Level 1 and 2 to refine their understanding and develop the ability to describe and discuss the complexities of ski/snowboard teaching. Turn mechanics, biomechanics, teaching methodology need to become habitual in nature before one can possibly be ready to take the next exam.
Year Three:
Level 2- This is the examination standard set for most full-time snowsports instructors. It assesses skiing/snowboarding and teaching competency to a level where an instructor is certified to teach 90% of the snowsports public. Again there is a skiing/riding and teaching component in this exam however the assessment is split into two sections: skiing/riding first, then teaching. It is our belief that candidates must have the ability to demonstrate accuracy in their movements before they are likely to understand how to teach these movements to someone else. Due to the complexities of and fundamental principles expected to be present in all skiing/riding and teaching scenarios at this level it is unlikely that a petition to sit this exam will be approved unless it is from within the snow sports industry, typically from an internationally certified (ISIA) instructor not associated with PSIA.
Year Four:
Develop Practical Experience with teaching hours and Training at higher skill levels. At this stage in professional development an instructor can discuss complex theories and develop individualized lesson plans. In the area of skiing/riding demonstrations candidates must develop athleticism that is typically not present at Level 2. Tactical decision making needs to be present and an ability to coach tactically is expected to be developed during this time period.
Year Five:
Level 3- At this level it is expected that candidates have a mastery of the written materials, methodologies and practices of PSIA/AASI and the physical aptitude to ski/ride all conditions with any guest that may take lessons in any given resort. Again the exam is split into skiing/riding then teaching.
Following this five year pathway is no guarantee of success and it is only your effort, commitment and time dedicated to this profession that will result in a successful exam outcome, but this is a solid recommendation on how to be as well prepared as possible. Other disciplines may have differing timelines for your success.
Should you choose to challenge this time line, a petition form is available on our website, http://psia-w.org/new/ forms-applications/petition-form.
You will need to include justification for accelerating the process. Skills sets like History of racing, Coaching other Sports, and teaching hours can influence approval. Your petition will need to be endorsed by a current member of one of our Education Teams.
This petition will be routed to the discipline chair, at present Finlay Torrance for Alpine and Chris Lange for Snowboard.
Submit early, at least one month prior to the exam you wish to attend. This will give the chair and office sufficient time to review, ask follow up questions and respond to the applicant.
The Discipline Chair has sole discretion for petition approval.
I hope this information helps to clarify the certification pathway.
May the force be with you.
Finlay Torrance, PSIA-W VP Alpine Certification
Chris Lange, AASI-W VP Snowboard Certification
http://psia-w.org/new/wp-content/uploads/2015/09/yearone.jpg
205
308
psia
http://psia-w.org/new/wp-content/uploads/2015/08/PSIA-AASI-WEST-LOGO-340x156.png
psia
2015-09-01 10:15:26
2018-10-09 12:49:53
Exam Process - Why we do the things we do