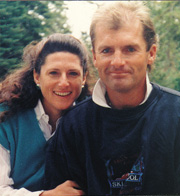 HISTORY OF THE FOUNDATION
The Education Foundation was established in 1994 to provide financial assistance to PSIA/AASI-W  instructors looking to enhance their personal growth and further their careers in snow sports instruction.
The mission of the Foundation is to provide education opportunities for professional ski and snowboard instructors.Examples of some of our projects:
Supported consistent and unified National standards for certification by funding National Standards training
Funded "New Member Welcome Days" to help introduce potential new members to the Association
Supported the educational and professional development of individual members through scholarships
Supported creative educational materials within Western Division, such as translating new member materials into Spanish
Direct support of PSIA/AASI-W events to make education less expensive and more available to our members
History of the Foundation
The PSIA-W Education Foundation was incorporated in 1993 and accepted as a 501 (c)(3) by the IRS in 1995. The early organizing committee included Greg Felsch, Blaine Lomen and Katherine Hayes-Rodriguez. The initial goals of the Foundation were to raise money to cover the cost of producing publications, such as the Division newsletter and exam manuals and to offset costs of events for our members for events such as Convention or Fall Rally. One of the early accomplishments of the Foundation was production and distribution of the Master Plan document in the mid-1990s. The Foundation continues to support the mission of PSIA by supporting development of individual members through scholarships and funding education projects.
The Sodergren Fund
In 1997, Mike and Miriam (Mim) Sodergren were killed in a landslide in Thredbo, Australia. Mike and Mim were beloved and respected as instructors, educators and motivators. They served the Division as examiners/clinicians for PSIA-W, regional demonstration team member (Mike), Junior Education Team member (Mim), and co-founders of ski school programs such as the Women's program at Alpine Meadows (Mim) and the North American Ski Training Center (Mike). After the 1997 tragedy, some members of the Association, including Chris Fellows, Barclay Moore, and many others ?? helped to set up a Fund to honor the memory of the Sodergrens'. The Sodergren Fund assists full-time instructors who have invested themselves fully in the profession of ski instruction and demonstrate a willingness to 'give back' their time, energy and enthusiasm
The Foundation is a 501 (c) (3) Organization in good standing, Federal ID # 77-0381837. The Foundation is supervised by the Education Foundation Board of Directors.
Contact information for your Education Foundation Board of Directors:
Jenn Taylor, President
Blain Lomen, Commitee Chair Secretary
Artie Castro, Treasurer
Kathryn Hayes-Rodriguez, Director
Bryan Schilling, Director
How Scholarships are funded:
Scholarships are funded primarily through donations of our members, participation in the Fall Golf Tournament and the Silent Auction Fundraiser at our Spring Convention.
Interested in creating a new scholarship? Please contact the PSIA/AASI-W office.
Women's Summit – Special Funds Account: If you are looking for information on how to donate to the Women's Summit – Special Funds Account, please contact Heidi Ettlinger at 530.318.8661 or heidiettlinger@aol.com,
Interested in applying for a scholarship? Visit our Scholarship Application page.
General information about the Foundation, you can email: info@psia-w.org
http://psia-w.org/new/wp-content/uploads/2011/05/sodergrensweb180.jpg
196
180
Kristi J
http://psia-w.org/new/wp-content/uploads/2015/08/PSIA-AASI-WEST-LOGO-340x156.png
Kristi J
2016-10-06 12:23:22
2018-10-09 12:47:01
History Of The Foundation