PROFESSIONAL & EDUCATIONAL BENEFITS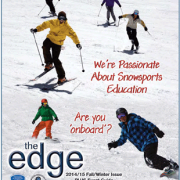 Publications
Western Members receive a bi-annual subscription to The Edge, a division newsletter that is available in print and online.
Registered, Active and Inactive Members also receive a subscription to: 32 Degrees, the journal of professional snowsports instruction. This magazine covers what's happening in teaching alpine skiing, snowboarding, Nordic skiing, and adaptive skiing/riding (including tips on improving your own skiing and riding and other interesting and hard to find articles.
Education Materials
PSIA/AASI National develops and distributes a wide range of manuals, videos, and other materials to support teaching and skill improvement. These materials are available at the lowest possible cost to members and can be found in the PSIA/AASI Accessories Catalog. PSIA/AASI National also provides The Matrix, a lending library of videos and other materials to help managers and trainers, as well as interactive web-based learning modules.
You can also locate online manuals/workbooks/study guides in the Resources section of the Western Division web site. Some of these items are unique to our division and are required reading/study for taking Certification Events.
Personal & Professional Development
Educational Programs, Clinics & Conventions
PSIA/AASI clinics and conventions are held throughout the country each season. As a Registered/Active/Inactive member you can sign up for events in all 8 divisions. The Western Division event offerings include one and multi-day programs in freestyle, women's and senior specific, & adaptive and children's educator events. We also provide certification and education for Alpine, Snowboard, Cross Country, Telemark, and Adaptive.
These education events are conducted by highly trained members of our professional staff and some of the finest clinicians in the country. Whether you are a seasoned expert or looking to just refine your technique – attending these events will improve your skills and challenge you while having fun and developing camaraderie among lifelong colleagues.
Our National premiere event, The National Academy is held in the spring of each year – and sure to be one of the best experiences you will have as a member.

Certification
PSIA/AASI Certification signifies that you have achieved standards set by the National Organization for personal performance, teaching, professional knowledge, and technical skiing/riding skills. Certified instructors provide a high level of quality and consistency in their teaching and skiing/riding skills.
A Certification Pin is presented to every member who achieves a Level I, II, or III Certification. Some members are Certified in more than one discipline – or take an accreditation course in Freestyle, Senior's, or Children's Specialist.  Here, you can view the pathway to obtaining certifications and accreditations in the Western Division.
Certification is recognized in all 8 divisions and can often mean increased wages, additional benefits, and recognition. Members must attend educational events at least every two seasons in order to stay current with the latest in snowsports education and sharpen their skills. These credits are also required to maintain your membership.
Member Services
PSIA/AASI National (ASEA) provides online opportunities to review your member records and participate in the member forum.
The Western Division and ASEA have a Board of Directors that continually looks at ways to improve our organization and the value of membership.
NATIONAL MEMBERSHIP BENEFITS
PRO DEALS AND ACCESSORY CATALOG
PRO DEALS AND ACCESSORY CATALOG
PRO DEALS AND ACCESSORY CATALOG


The Western Division and the National organization (ASEA) both offer professional discounts on everything from items that make teaching easier to equipment and gear.
PSIA-AASI Accessory Catalog
Available for Registered, Active, and Inactive members.
National's Accessory Catalog carries items that show your pride in the association (clothing and gear with PSIA-AASI logos), manuals and teaching guides, and other hard to find items that make instructing easier.
Promotional & Affinity Programs (Pro Deals)
Access hundreds of members-only discounted products from PSIA-AASI Official Suppliers
Outdoor Prolink also offers discounts on gear to PSIA-AASI members.  Active Western Division members can sign up via their Application Form.
RESORT TICKET & MEMBER SCHOOL BENEFITS
Resort discount tickets for PSIA-AASI Members change every season.  To get the most accurate offer please contact the resort's ticket office and ask for their current PSIA-AASI member offer.  The offers below are only a sampling of what is available…
View the most current offers: PSIA-AASI Member Lift Ticket Rates
LOCAL EQUIPMENT REPRESENTATIVES
Promotional deals can also be accessed through your Western Division equipment representatives. To gain product knowledge and information on how to purchase equipment please contact the representative listed below.  To be added to this list please email kjereb@psia-w.org
John Beesley Elan Skis; Dalbello Boots (775) 250-2182,
Bob Bush Dynastar Skis; Lange Boots; Look bindings; Avalanche s Skiwear (530) 587-9494 w(530) 582-4322 h
Bill Burns, Alpine Meadows. Head, Swix an UVEX, (530) 386-3483
David Clay, Dodge Ridge Resort, Crispi Boots, Rottefella Bindings, Masters Poles, Madshus skis
Garry Cox, Homewood Mountain Resort, Head Skis/Boots/Bindings, SWIX, UVEX, Smith Optics, Cell (530) 412-1647, E-mail – garrycox@skidonnersummit.com
Frank Deras, Sky Tavern, Dynastar/Lange/Look (775) 233-1135
Walter Edberg, Alpine Meadows, Elan, Dalbello, Cell (775)338-3128
Douglas Fagel, Thrive Snowboards, (888) 870-2032 doug@thrivesnowboards.com
Troy Gier, Heavenly Mountain Resort, Atomic skis and boots (530)363-0265
Robert Haas, Heavenly, Marker, Volkl, Poc Hotgear.us
Ann Keller Plumb, Bear Mountain,  Head Skis / Tyrolia, CamelBak and Tip Tethers.
Phil Kerridge, China Peak, Rossignol Skis, Boots and Bindings (559) 233-0582
Mark Kukla, Demon Snow Extream Sports Protective Equipment D30 www.demonsnow.com (949) 295-0369
Steve Lehr, Squaw Valley , Rossignol Alpine Skis, Boots and Bindings.  Cell (775)813-5540.
Greg Lyons, Heavenly Resort Volkl, Tecnica and Marker
TJ Moulton, Kirkwood, Kastle 307-231-0300
John Robben, Dodge Ridge Volkl skis and Marker bindings, helmets and goggles 209-985-9113
Lucy Royse, Badger Pass – Head skis and boots, uvex and Swix          (559) 760 0119
Mamood Sabahi, Mammoth Mountain Ski School, Rossignol (714) 321-4206
Adrienne Schneider, Kirkwood Mountain Resort Salomon Skis, Dainese, Pro Energy Towel
Russ Snow, Heavenly Ski Resort, Lake Tahoe Scott products (530) 314-1404
Mark Spieler, Head Skis, Boots and Tyrolia bindings. (760) 914-2339
Eric Tanner, Mammoth Mtn. Ski and Snowboard School Rossignol Alpine and Telemark Skis, Boots and Bindings (760) 934-2571 x3188
Dave Tingey, Tecnica/Blizzard. (209) 770-5191.
Marcel Vasquez, Northstar at Tahoe, Nordica Skis and Boots (530) 386-1297
Terry Peters, Northstar at Tahoe, Atomic Boots and Skis
Paul Fulkerson, Alpine Meadows, Stockli Skis (916) 425-8878