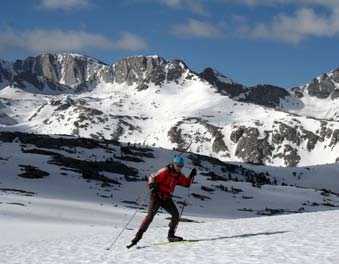 Cross Country Ski Skating is a fun and healthy way to improve your downhill skills. It is fast, fun and free… (well, sometimes!). This popular form of cross country skiing is a far cry from the "tour-throughthe- woods-with-your-dog" kind of skiing most of us do from time to time if we live in snow country. Modern ultra-light equipment allows you to glide quickly over firm snow and swoop downhill at what feels like breakneck speed. While fitness is important in this sport, good technique is what really allows you to experience the fluidity and power that reward the skating enthusiast.
While it shares the aerobic aspects of cycling or running, skate skiing offers a technical dimension beyond either of these sports that appeals to the serious student of skiing. Gains in efficiency through improved body position, power application and timing are immediately felt as the work/glide ratio changes. Because WE supply the energy of propulsion, not gravity, small increments of efficiency become gratifying milestones of accomplishment. It's a pleasant surprise to find that the precision and balance developed on skate skis can translate to greater mastery of other sliding disciplines.
The fun comes in a variety of ways. You can find an uncrowded trail and meditate on the sensation of skis quietly gliding over fresh packed powder, or you can group up with friends and competitors in a mass start race. Just an hour or two will leave you feeling refreshed and cleansed from your life-stress, or worked from exertion – depending on how you approach it. Free skating can be enjoyed on corn snow (crust cruising) or at a community supported trail system such as Mammoth Nordic.
Many of those who are initially drawn to the sport primarily for the fitness benefits find that they stay with it for the technical challenge. Elements of ski technique such as projection of the core, release and reengagement of the edges, flexion and extension of the legs, weight transfer, anticipation and relaxation can be honed for a lifetime.
Come see for yourself how working on these techniques on skating skis can have a dramatic impact on your normal skiing and riding. Two clinics will be offered this season:
Cross Over to Cross Country – January 27 at Tahoe Donner Cross Country Center
Half and Half – 1/2 day on skating skis, followed by a 1/2 day on alpine skis – February 9 – Northstar Cross Country Center
Look for clinic descriptions and more information in this issue of The Edge and at psia-w.org.
Bring your ax!
Urmas Franosch, Nordic Committee Chair
http://psia-w.org/new/wp-content/uploads/2015/08/PSIA-WFallWinterNews.jpg
264
339
psia
http://psia-w.org/new/wp-content/uploads/2015/08/PSIA-AASI-WEST-LOGO-340x156.png
psia
2015-08-30 08:07:15
2018-10-09 12:49:54
Nordic Certification & Events